I loved how Erin talked about being an art cheerleader for her students! Her mantra of "It's just paper" and encouragement to play and explore without getting stuck on unattainable ideas of perfection were so helpful. She shared such great advice around piecing together a career as an artist, which feels connected to piecing together her gorgeous collage work. A game changer for me was her goal of 50 rejections per year. What an incredible mindset shift that creates – going from mourning a rejection to celebrating it as part of a larger goal!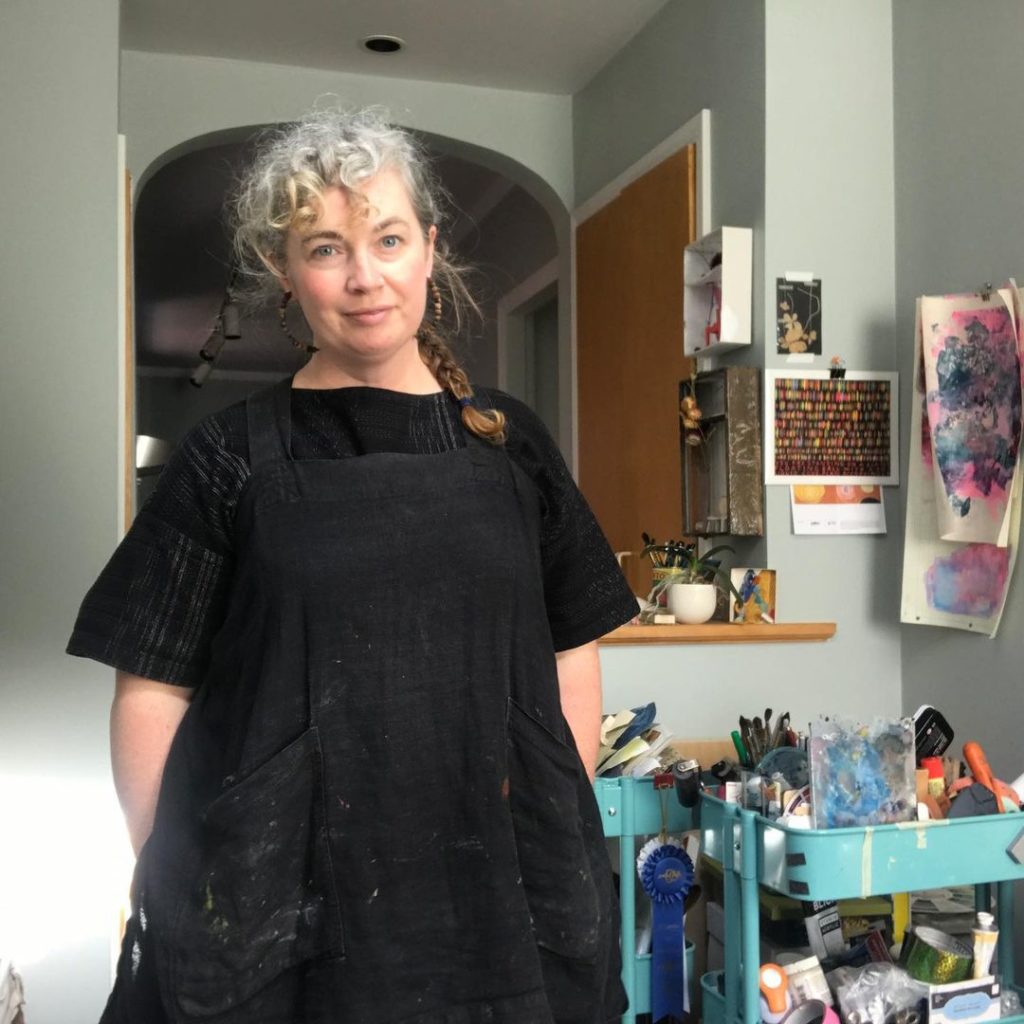 Erin McCluskey Wheeler is a painter, collagist, writer, curator, and teacher based in the San Francisco Bay Area. Erin works in many series at once and across disciplines in painting, collage, works on paper, prints, and poetry. There is always a careful attention to placement, selection, and adjacency in both her writing and her visual art. Each medium with its different qualities, allows Erin to explore ideas about memory, language, color, and place, while retaining a unified voice that reflects on the power of color and connection.
Erin has a BA in studio art and art history from Beloit College, and an MFA from California College of the Arts. As an undergraduate, her did an intensive study of traditional brush painting at Kansai Gaidai University in Hirakata-shi, Japan. Erin is a faculty member of the 92nd Y School of the Arts in New York City and teaches collage and mixed media classes throughout the Bay Area. Erin has shown extensively in galleries across the country and her work is represented by the Roaring Artist Gallery, a virtual gallery showing the work of visionary women artists. Erin's artwork is licensed and sold through West Elm, Minted, Target, and Samsung. She has won multiple awards for her visual art and poetry including the top prize for poetry from Northwind Arts in 2021.  In 2018-2019, she was the Artist in Residence for the El Cerrito Recycling Center and during her term created two exhibitions, three free public workshops, and a 28-foot long collage mural using only materials from the recycling center. Erin is a founding member of The Collage Stop and the Art Brand Alliance.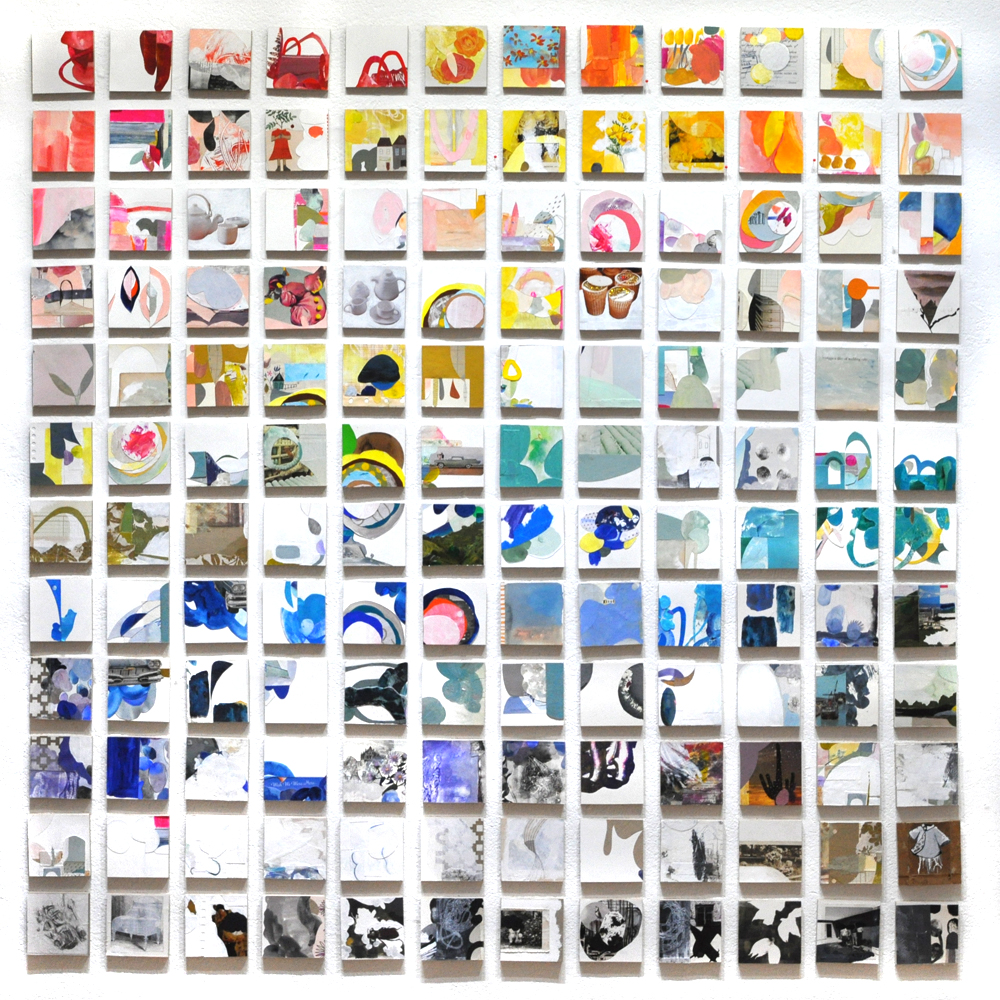 ARTIST STATEMENT:
Erin's work is all about reinvention and restoration. The artist cuts up, groups and rearranges her paintings on paper and found papers in a process of transformation – an intentional act of breaking apart and putting things back together.  The process starts with color and texture and is additive and iterative – letting the pieces determine the final composition and shape of the pieces. She uses paper, with its ubiquity, ephemerality, and lack of intrinsic value, because it can be transformed from the ordinary to the extraordinary through the application of paint, the cutting of shapes, and in combination with other papers. Often the papers are sourced from other artists – students and collaborators – and this act of using paper that has passed through others hands is a way to create community and long distance collaboration. She is interested in the materiality and weight of paper, the surfaces it leaves behind when torn and removed, and the way colors can evoke memories of people and place. Erin approaches her work almost as an art restorer – completing shapes that have been cut, finding the forms under the layers, and matching the colors found with paint mixed directly on the surface.  This way of working is a direct result of Erin's work as a caretaker for both her parents with early onset dementia. As her parents' sense of self, autonomy, and connection to the world got smaller and more fragmented, Erin found beauty in reconstruction and in the careful placement of small things.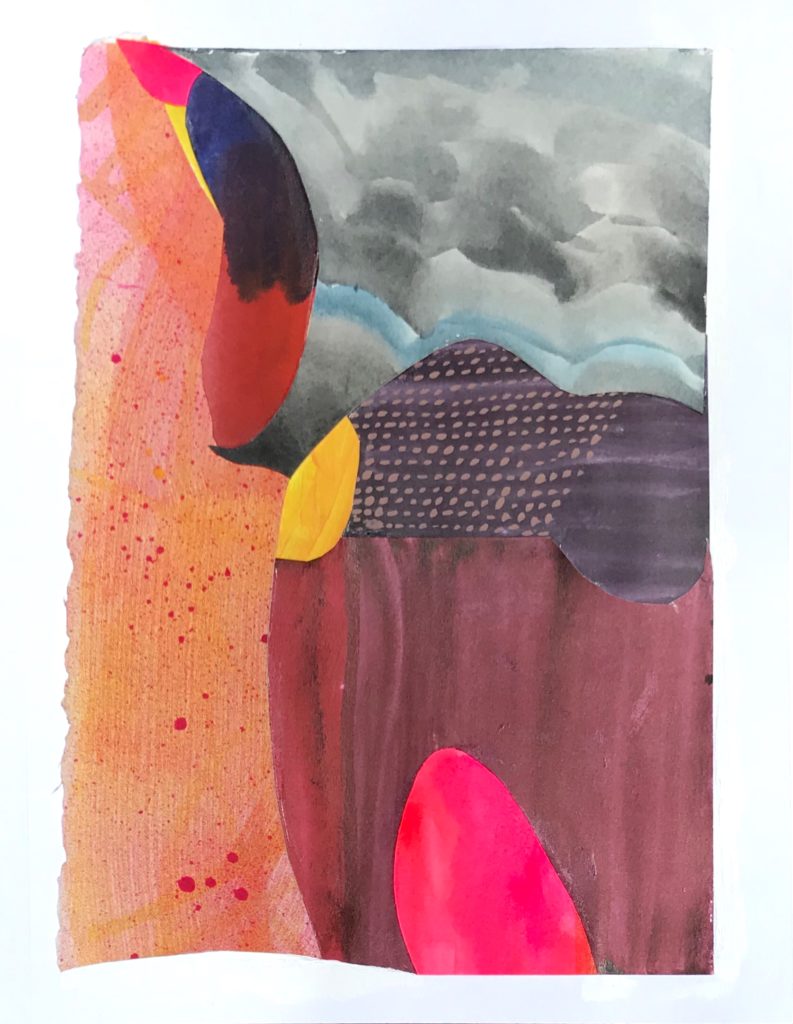 Links: