This is a mini-episode to share more about our upcoming exhibit. I am so excited to be working with Maria Coit of Curated for Kids on this project. Contemporary Art For Young Audiences is what we're calling our collaboration.
Our first exhibit, an online group exhibition titled "See Where It Takes You" opens July 10, 2020.
During this Great Pause while we are spending more time at home connected through devices, this exhibit brings contemporary artwork and inspiration to children in their homes. This is more than an exhibit – it is also a resource for parents and art teachers.
This exhibit showcases for young audiences the work of nine artists, many of whom are also teachers. The show includes video interviews with artists sharing their creative process, the meanings behind their work, and their advice for aspiring artists.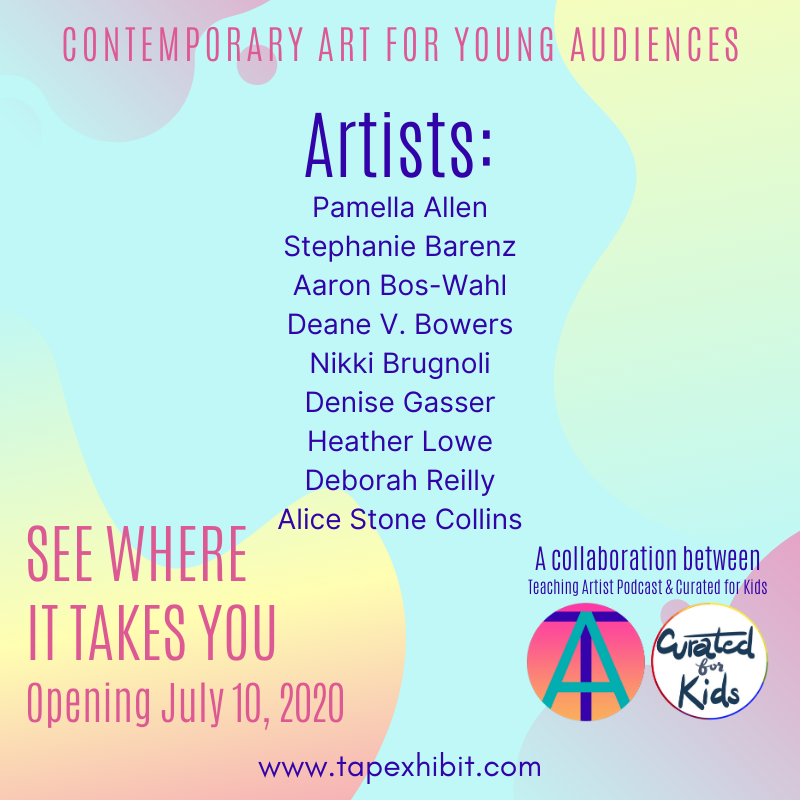 The title comes from The Dot by Peter H. Reynolds. "Just make a mark and see where it takes you." says Vashti's teacher in The Dot. This book is a favorite of elementary art teachers and has even inspired International Dot Day celebrations around the world. That first dot Vashti makes leads her on a journey of creating all sorts of dots, exploring color and scale, positive and negative space. Like many contemporary artists, she discovers an interest and digs into it, pushing her work in new directions.
Participating Artists:
Pamella Allen
Stephanie Barenz
Aaron Bos-Wahl
Deane V. Bowers
Nikki Brugnoli
Denise Gasser
Heather Lowe
Deborah Reilly
Alice Stone Collins
While our focus is on sharing artwork in an accessible way, the work will be for sale. 70% of sales will directly support the artists, while 20% will be donated to an incredible organization. We are thrilled to support Amplifier through this exhibit. They offer free programming for educators and have also developed at-home learning toolkits.
The Education Amplifier program is committed to amplifying the voices of social change movements through art and community engagement by creating meaningful ways for educators and their students to join the conversation. We achieve this by collaborating with social change movements to create and distribute teaching tools such as artwork, lesson plans, art builds, and storytelling opportunities to registered Amplifier educators for their classrooms. We are bridging the gap between education and social change movements to inspire youth around the country to lead social change.
Join us for our opening online event on Friday, July 10th in instagram live! We're also planning to do an artist talk event series, so be sure to follow us @teachingartistpodcast and @curatedforkids. I can't wait!!