Alicia is a 23 year old Berlin-based artist from Ireland. Mainly working in large-scale format and dabbling in various mediums from acrylics and oils to spray paint and graphite, Alicia makes use of any material necessary to tell the story of each visual creation. This often leads to intricately layered textures and tones that bring a unique element to each and every piece.
Alicia's art career began with her fascination with painting on recycled and used materials, such as old wooden cutoffs that she would collect from a local wood artist. The one-of-a-kind scrapes, scratches, tones and dimensions in every piece would prompt an idea or subject matter which she views as a continuation of the story that has already begun. From here, Alicia has taken part in various group exhibitions throughout North America, such as, the RAW Natural Born Artist Showcase and the Pancakes and Booze Exhibition in Vancouver, as well as multiple commissions including her participation in the Squamish Mural Festival in BC, Canada.
Growing up as a ballet dancer, Alicia is particularly interested in the human figure as well as the concept of the ballerina; appearing in her works as somewhat disassembled and abstracted, contradicting the expectation related to the classical subject itself.
Using these deeply personal concepts to explore wider social ideologies, Alicia is highly influenced by contemporary street art as well as classical expressionism to create a bold and unique finished visual.
@nakedquig on Instagram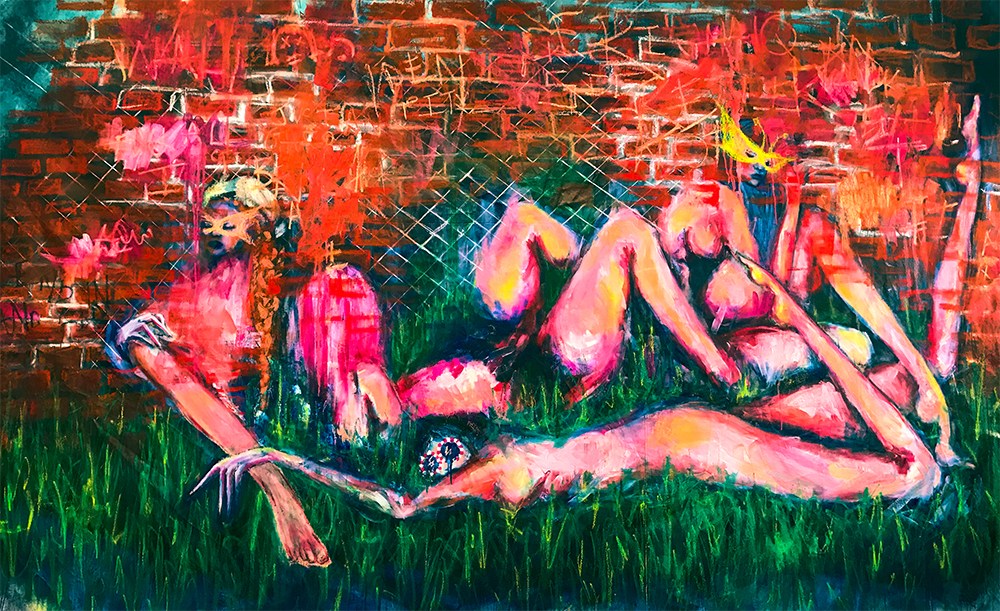 Artist Statement:
Exploring themes of identity and transformation, I like to take strong recognizable subjects and morph them into a form that is conflicting and contrary to expectation. The ideas of expectation vs reality and sincerity vs deception, are ones that I believe are prevalent within our society and appear in multiple forms. Masked creatures, so recognizable yet somewhat not at all, symbolize the inner voice we hold within us and the identity we attempt to present to the world for the validation of those expecting.
I often leave aspects of my work untold or allow for strong elements to lead to a place of nothingness and even dissatisfaction.This highlights the strength of imperfection and encourages the observer to continue the story. Using various mediums to create layers of tones and textures, the journey of each work remains raw and visible, retaining a sort of palimpsest.
Every mark and stain is vital to the storytelling aspect of my art.