Kate was so uplifting and encouraging of artists. She shared her experience as an artist, writer, gallery owner, as well as a nurse and teaching artist. It was inspiring hearing how she took initiative to move from her career as a nurse that wasn't fulfilling her into a career as an artist. She had some wonderful tips for artists around mindset, overcoming creative block, and working with a gallery. A few of the tips she shared:
Realize your time and then respect that time. (When do you work best? When do you have time to focus?)
Start with the hardest thing on your list first, because if you conquer that the rest of your day is easy.
Keep a journal and write everyday, but don't look back (for at least 3 weeks).
Schedule important "junk jobs" like bill paying so they're not always on your mind.
Bonus tip: Barter your artistic services for other services.
Kate also talked about her love of color and following the color trends to pay the bills, which helped her when working with interior designers and selling her work. She let her passion for color lead her. I also loved the metaphors she found in birch trees and how she used that as a jumping off point for a series of work.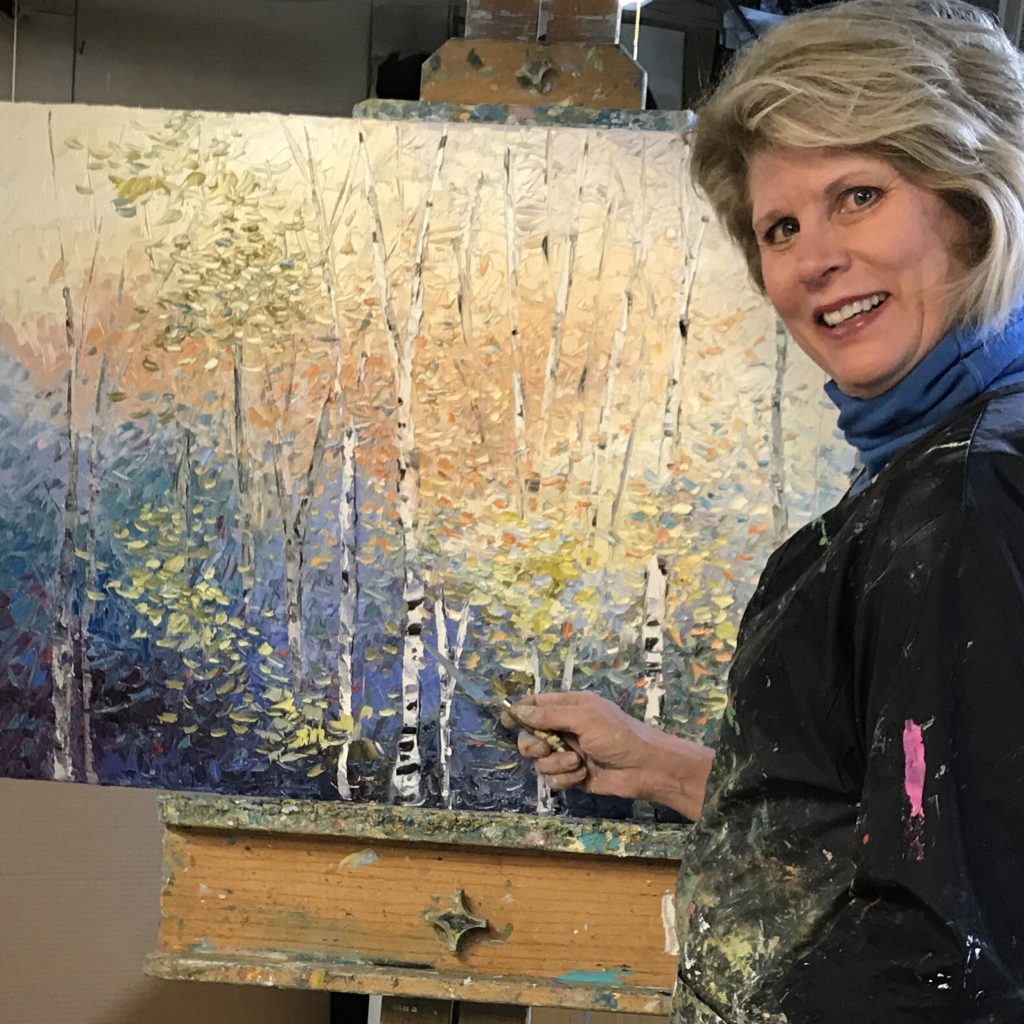 Kate Moynihan has been a professional painter for 30 years. Before painting full time, Kate spent 12 years as a registered nurse. She contributes her interest in color relationships from this education, expanding on her color knowledge when she returned to college as an art major.
Over time, her style has grown, but she holds true to her interest in color and texture. Her watercolors embrace a rice paper collage technique. When working with oil painting, Kate uses a palette knife, applied in a thick, layered impressionistic style. Her use of color captivates her audience, and the texture engages them longer.
Being a Michigan native, Kate finds the surroundings inspirational for her water shoreline scenes and woodland landscapes. Her signature motif is the white birch.
Kate used the symbolism of the birch when she penned her memoir, A Lone Birch, My Artistic Journey, which launched in 2017. The tree with its craggy, imperfect bark, standing tall, reminding her to do the same.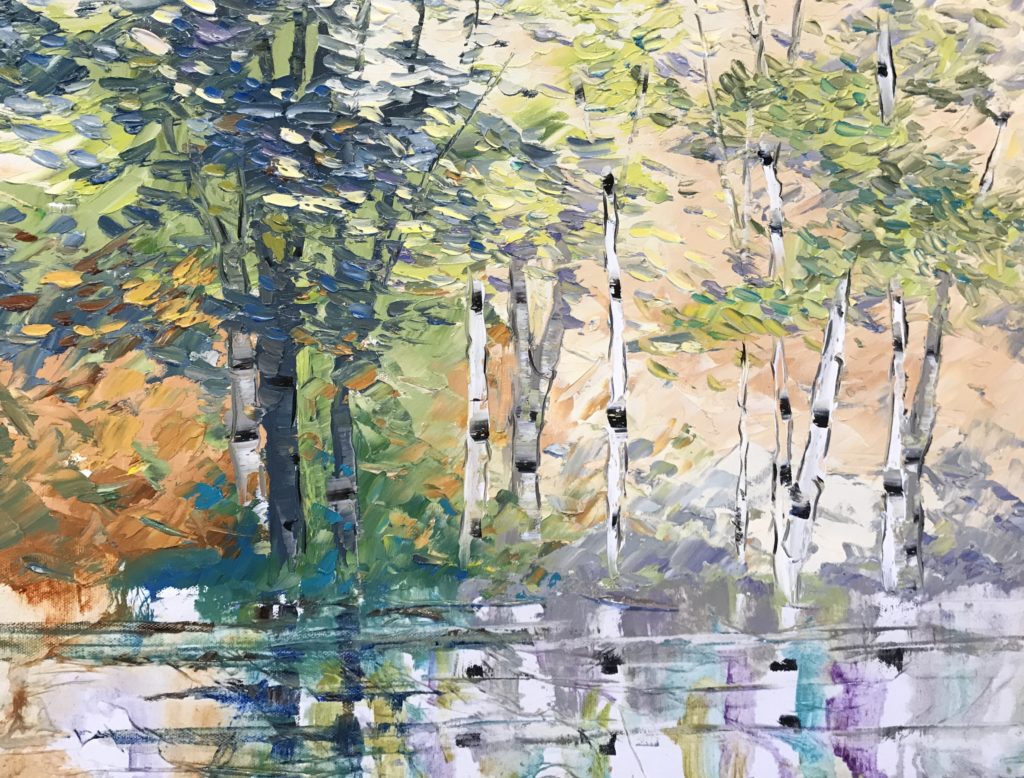 Prior to the memoir release, Kate published three junior fiction books based on humorous stories with her then-young sons. She uses these books as a springboard when motivationally speaking.
Recently, Kate retired from being the owner of Moynihan Gallery and Framing, on Eighth Street, in downtown Holland, Michigan after enjoying prominent community support for 25 years. Prior to owning the gallery, Kate created custom original watercolor and paper collages for Business Images, Chicago, Illinois, Studio 84 West, Long Beach, California, and International Art Concepts, Los Angeles, California, who sold to Pier One and Spiegel Catalog.
Kate was commissioned by Holland Tulip Time Festival for their 75th anniversary poster. Submitting additional entries in 2015 and 2019, being chosen as the top 20.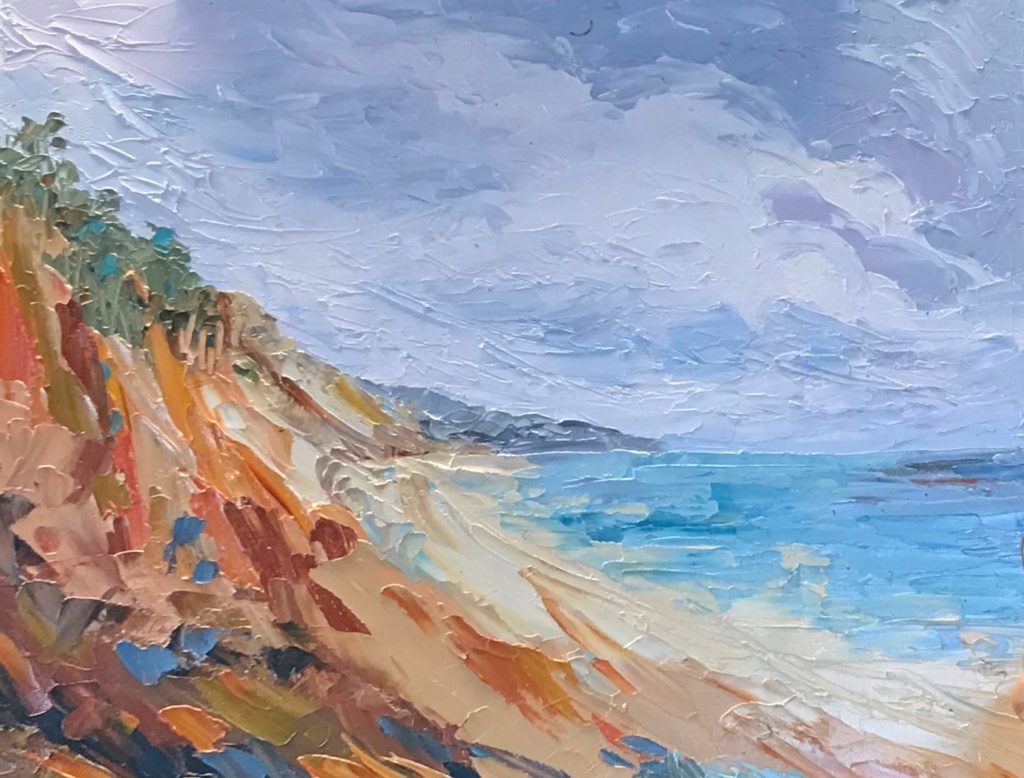 Links: