Tracy shared so vulnerably about body image and the importance of being seen and valued for who you are. She talked about struggling in school, but feeling power as an artist, and how her experiences shape her teaching. She shared so many wonderful resources for teaching and art-making, which are also linked below.
Tracy Brown was born and raised outside of Detroit, Michigan, and obtained a BFA with a major in art education from Michigan State University in 2005. She has been an art teacher for the past 14 years and she is dedicated to instilling a passion and appreciation for creation and self-expression into her students. Tracy believes in the ability of art to transform and bridge minds into understanding and unity. She moved to the desert to teach and make art during the great recession without intentions of staying but fell in love with the slower pace lifestyle, culture, and landscape of the desert.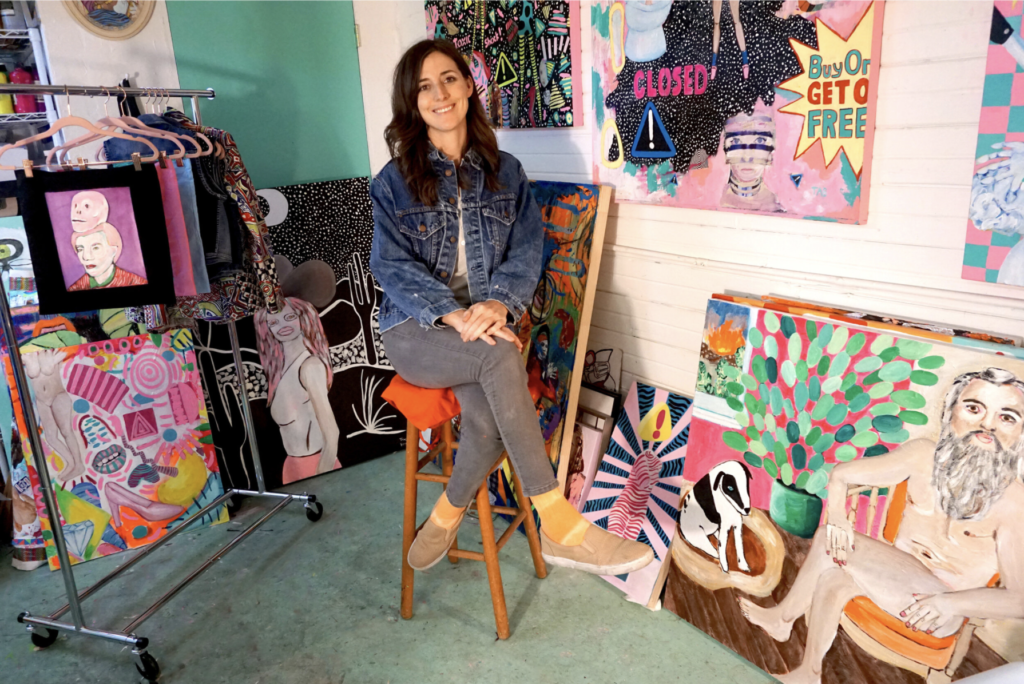 Over the last decade, Tracy has had an artist studio in downtown Tucson and has been actively showing her art in feminist exhibitions nationally and internationally. Her work has been on display in group shows in venues such as the SOMARTS Cultural Center in San Francisco, Denise Bibro Gallery in New York, Gallery 825 in Los Angeles, the National Steinbeck Center, the Women's Museum of California, The Untitled Space in Tribeca and the Czong Institute of Contemporary Art in Gimpo, South Korea. Her work on male bonding is included in the private collection of the Gwangju Cultural Foundation in South Korea, which is host to one of Asia's major biennials. She has had her work on display next to and juried by artists such as The Guerrilla Girls On Tour, Lynn Hershman Leeson, May Willson, Sylvia Slay, Beverly Buchanan, Suzy Lake, and Faith Wilding. Her work has been included in exhibitions juried by directors of major contemporary museum art collections such as Rita Gonzalez of LACMA, Maria Medua of SFMOMA, Lynn Russell of The National Gallery along with Eleanor Heartney, contributing editor to Art in America, Art press and more. Tracy has had work published and referenced in Elle Italia, Marie Claire Brazil, Ze.tt Germany, Dazed Digital, Bullet Magazine the Huffington Post to name a few.
Artist Statement
When I was 12 years old, my father bought me my first fashion magazine subscription. Before I read those magazines, I can't remember having issues with my body or appearance. I remember flipping through those magazines desperately desiring the products and lives of the models within the advertisements. Often, when I acquired these products or outfits, I felt a deep sense of dread and let down within the emptiness that remained. I struggled with an eating disorder for nearly 20 years of my life as a way of managing anxiety, stress, and unprocessed emotions. Before I found the right therapist and guide on my healing journey, I used creating art and studying feminism as ways to process my experience. It was on that journey that I began to learn about issues that historically placed women in a role of submission. I view my work as a purge and purification of the repetitive imagery that ultimately reinforced my lack of self-worth. It's incredible how far I've come and how much healing has taken place over the past 5 years. I continue to use my work to bring attention to issues that I believe hold women back in society. My intention within this series, "Altered Histories" is to bring awareness to gender disparities and inequities in the visual arts. Women continue to be under-represented in major museums, galleries, collections, and texts. By altering, painting, collaging into, and reinterpreting recognizable historical works of art I hope to create a dialogue around issues that need to change.
Links:
Artists:
Teaching Resources:
Books, Articles, and Authors:
Art Resources: